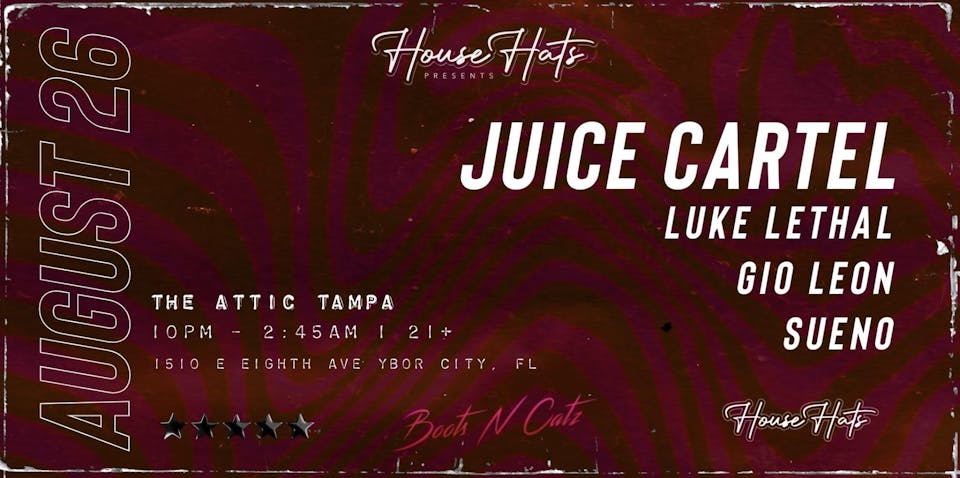 House Hats Takeover @ The Attic
$10.00 - $25.00
Sales Ended
House Hats Takeover @ The Attic featuring Juice Cartel, Sueno, Gio Lion & Luke Lethal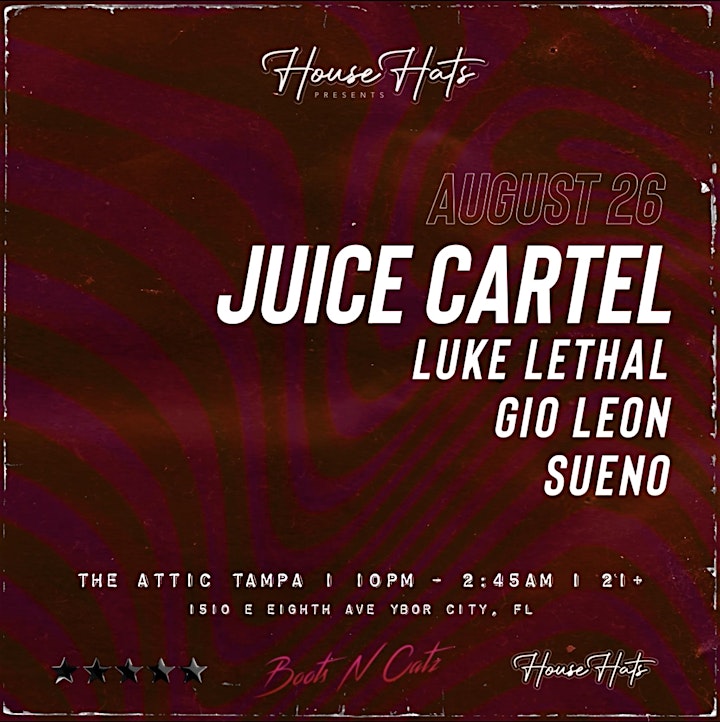 Our lineup for August 26th at The Attic Ybor features artists local to Tampa. Headlining the party are Juice Cartel with direct support from Sueno, Gio Lion, and Luke Lethal.
Juice Cartel: A surging duo within the East Coast house music scene, Tampa-based DJs and producers Alejandro Galvez and Santiago Montoya also known as Juice Cartel are beginning to showcase their talents as one of the most in-demand rising names. After 4 years of working together as individuals and putting musical pieces inspired by House music, Urban music, early 90's samples, Latin percussion, and Minimal DeepTech sounds from London, the transition to a duo came after their first release with the record label from Orlando HouseKeepers back in 2021. In this short period of time Juice Cartel has made appearances in Venues such as Tree House (Miami), Elixir (Orlando), The Patio (Orlando), Tangra (Tampa), and Eden (Tampa).
Sueno: Jose Lopez, who is known by the stage name Sueno, is a house music DJ/Producer based out of Tampa, FL. He expresses his passion for house music through his deep groovy sounds. 

Sueno started his journey in 2019 and has met great people throughout his experience in the house community. He has had the opportunity to support different artists such as Jamie Jones, Gordo, and other talented artists in the industry. Being a part of the culture, Sueno is inspired by many great artists in dance music scene, and enjoys creating a vibe and experience for the people.
Gio Leon: Born and raised in Puerto Rico, Gio Leon got his DJing start in Albuquerque before moving to FL to look for further opportunities. A versatile DJ that can play Drum & Bass, House, Techno and other genres as well as bring those technical mixing skills when performing. As founder of Beats Brigade and Waves, he is currently hosting a Thursday night weekly in St. Petersburg which has provided him a platform to unite the community. Always looking for the best ID's and ways to innovate on the decks, you don't want to miss this DJ's combination of skills and track selection.
Luke Lethal: Luke Lethal is a Tampa, FL based artist producing dark underground club music in a wide variety of styles including hard techno, liquid dnb, psytrance, minimal tech, and beyond. Also a battle tested DJ, he has made notable appearances in Miami, NYC, Atlanta, and more, sharing the booth with some of the most iconic artists in dance music.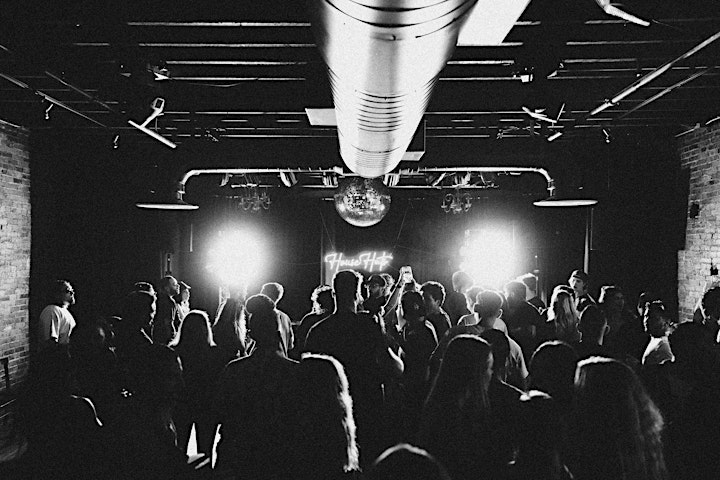 Venue Information:
The Attic at Rock Brothers Brewing
1510 E 8th Ave

Tampa, FL, 33605